Sixth form pupils act as role models for the younger pupils in the school. In Year 12 pupils act as mentors to Year 7 pupils, as Prefects for Lower School forms and as Subject Prefects; in addition to this Sixth form pupils also take a leading role in the School Council.
In Year 13 Prefects assist in specific areas of school life including liturgy, careers and the library and also support the day-to-day running of Departments and volunteer to be Subject Mentors for younger pupils.. The Head Girl and Deputy Head Girls are elected bypupils and staff from Year 12 and play a pivotal role in leading and managing their peers in carrying out their Sixth Form responsibilities and in supporting whole school events.
Form groups are named after Saints – Anne, Bakhita, Catherine, Dorothy and Elizabeth.
The four School Houses, Lindisfarne, Rievaulx, Thanet and Whitby are central to the life of the school. Sixth Form pupils are appointed as House officials and are responsible for organising House events and competitions. This experience provides valuable training in organizational, leadership and inter-personal skills.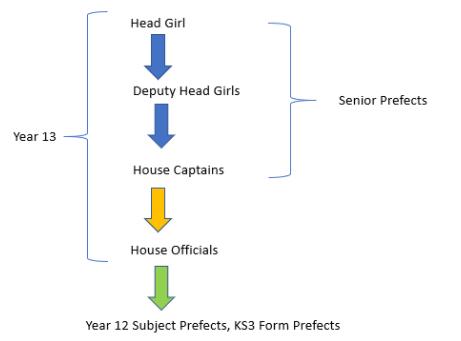 Sixth Form pupils can participate in the Duke of Edinburgh's Award scheme and students have taken part in expeditions to Kenya and the Gambia in order to achieve their Gold Award. There are opportunities for members of the Sixth Form to become Eucharistic Ministers and to take leading roles in the musical and spiritual life of the school. Highlights of the school year are the annual drama or music competitions and sports day.